TRADITIONS
In the 1960's the late Robert D. Thomas* had a vision of recreating the Old California Music in its traditional style. Bob Thomas was given Czarnowski's book "Dances of Early California Days" by the San Diego Curtiss Family in 1968 and we started teaching the dances and music at Sweetsmill Music Camp **, he called the music and the band 'Los Californios' as referenced in Ms. Czarnowski's and *** other books on early California. Interpreting the dances from the book was difficult, then at Sweetsmill I found a Balkan dance teacher, Made Taylor, who had studied with Ms. Czarnowski early in her career, she taught me first hand knowledge of the steps. At Sweetsmill we came in contact with Lee Birch who was also interested in this music and had been researching in Tijuana, Mexico to find musicians who maybe knew the old tunes of California. So we joined up and in the ensuing years we have traveled the length of California, researching the Old Music in such places as The Archives of California Missions, The Bancroft Library and The Southwest Museum in Pasadena, California.
* founding member of ITS ~ ** Virgil Byxbe's gathering of musicians and dancers on his Sierra Mountain Retreat ~ *** Californios, written and illustrated by Jo Mora 1946. The Spanish West, Time Life Books 1976
NOTE; Roberts vision has come true and one can find many groups of dancers and musicians throughout California, some using the name Los Californios and others using similar or more original names. In 1997 Los Californios (the band started by Robert Thomas) added The Alta California Orchestra to their name to avoid confusion with other California bands. All these groups ARE Los Californios in the tradition of the early California Fandango and its people.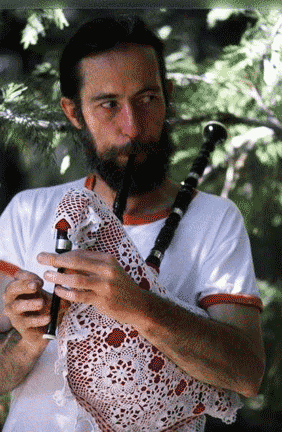 Robert Thomas ( bob) playing french bagpipes